Hi I'm Maureen Thorpe
Hi, I am Maureen Thorpe and I would like to start by giving you a warm welcome to my website. Choosing a wedding celebrant you feel comfortable with is an important step to your wedding day. I believe the most magical part of your day is the "I Do's" as everyone listens and witnesses this special moment between you and your partner.
I believe ceremonies should be very welcoming, friendly and professional. They should be a reflection of the type of ceremony you choose. They should be stress free and full of love and warmth from the support of all those around you, including me.
As a wedding Celebrant serving the Campbelltown, Camden, Bowral and Southern Highland regions of South and Western Sydney, I look forward to getting to know you and taking the time to hear your ideas and suggestions. If you don't have any idea what you are after, then don't worry I have many ceremony options that you can use or adapt which ever part you like.
A little about me
I am an authorised Civil Marriage & Wedding Celebrant living in the Campbelltown & Macarthur regions of Sydney. I was born in Scotland and have lived here in Australia for over 30 years.
I have had many years in public speaking, and I am passionate about my work, having completed my studies with "Academy of Celebrancy" gaining a high distinction in the Diploma of Marriage Celebrancy. I have also obtained a Certificate IV in Marriage Celebrancy.
What you need to know
I will attend to all the legal documentation both before and after your Wedding and make sure that all legal requirements during your ceremony are met. Most importantly, it is your Wedding Day so I look forward to conducting the type of service that you want and help you make the day a little more stress free. I believe in helping you were ever I can and am happy to offer advice when needed. If you are looking for a venue, a photographer or hairdresser, I may just know a few..
Alternative Ceremonies
I am also available for Baby Naming Ceremonies, Commitment Ceremonies, and Renewal of vows and Funeral Ceremonies. I will generally travel and work within the Greater Sydney Area, but I am only too happy to be given the opportunity to be your celebrant so please don't hesitate to ask.
If you are looking for a marriage or wedding celebrant in the Campbelltown, Camden, Macarthur, Wollongong and Southern Highlands, please contact me as I would love to hear from you
Warm wishes

Maureen Thorpe
Thank You Messages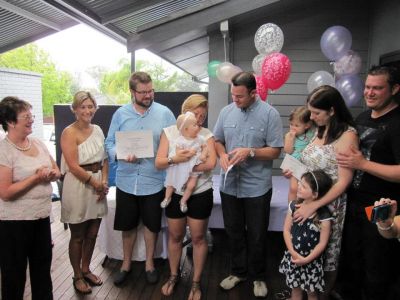 Zeva's baby naming
Thank you Maureen for helping make Zeva's baby naming and first birthday a fabulous success. Love Diana and Mark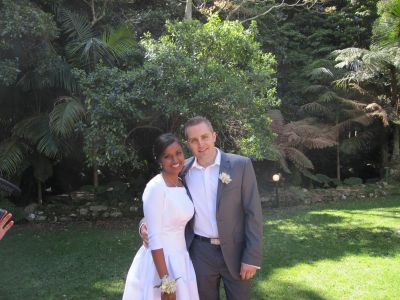 Ben and Rhidima
Maureen thank you for making our day extra special..Ben and Rhidima
Planning your special day
This can be an overwhelming task which is why I believe in delivering your personal yet professional service. With some friendly advice and experience I hope that I can make your day so much easier and a lot of fun too as I have had the privilege for many brides and grooms before.
Whether it's your first or third marriage, this is your special day and you deserve to have everything you have ever dreamed of. Your dream wedding may be a large traditional wedding, a small home/backyard wedding, a beach wedding, a themed wedding, or an alternative/spiritual wedding.
You may wish to include a rose ceremony, sand ceremony, candle ceremony, or an angel blessing. Or for those who have Scottish, English or Irish backgrounds a traditional Hand-fasting or a shortened version can be added to a more contemporary ceremony. Whatever style of wedding you prefer, we can create a ceremony that makes your day a truly unique and magical experience.